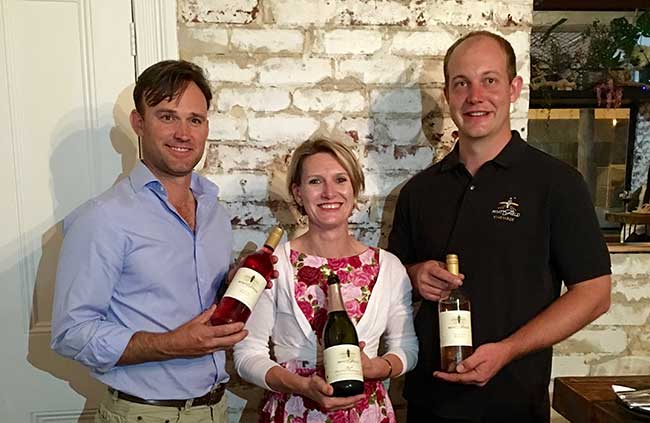 Josh was born and raised on a citrus orchard in the Bickley Valley. In 1997, after working summer holidays on local vineyards and completing his first vintage. At just 19 years of age he removed his fathers orchard and planted a small vineyard. This planting was expanded over the ensuing years and, in 1999, Josh bought the Carmel property with the aim of establishing more vineyards and a small winery. In 2000 he completed a second degree in oenology and began work as a cellar hand at the Sandalford winery in the Swan Valley. In between three vintages at Sandalford Josh also completed an overseas vintage in Sonoma Valley , Northern California. In 2003 Josh accepted the position of assistant winemaker at the Faber winery under John Griffiths. In the same year Josh and Rachael met at the nearby Lamonts Winery.
Rachael was born in the Victorian country town of Ararat. Her family had a shiraz vineyard in the Grampians region which supplied a number of local wineries with fruit. She completed an oenology degree from the University of Adelaide in 1999 and began work as a flying winemaker. Over the next 5 years she completed vintages in Italy, California, France, Portugal and New Zealand as well as the Australian regions of McLaren Vale, Grampians, Robinvale and Hunter Valley. In 2003 she accepted a position as winemaker at Lamonts in the Swan Valley. It was here she met Josh.
In 2006 Josh and Rachael decided they had had enough of working for other people and wanted to pursue their own winemaking interests. They now had mature vineyards in the Bickley and Carmel Valleys and considerable experience in wine production. Work on the construction of the winery began in 2006 and the 2007 was the first crush in this new facility.
In 2009, Josh and Rachael were married at the winery and now have two children, Mabel and Hugo, whom they hope will one day take the winemaking reins at Myattsfield.
Josh Uren joined Myattsfield as a winemaker in December 2012. He had a particular affinity for chemistry at high school and upon leaving took a cellar hand position at Millbrook winery in Jarrahdale, Perth Hills. He spent the next 7 years working at Millbrook, rising to assistant winemaker and completing an oenology degree in 2012 from Charles Sturt University by correspondence. Josh brings with him a great understanding of winemaking in the Perth Hills and particularly with the Viognier grape, which was a specialty at Millbrook.