Left Field Club END OF VINTAGE celebration
Event Location:
Myattsfield Vineyard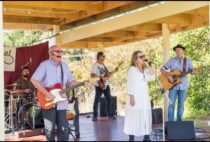 Invite your friends and family and help us celebrate 
The End of the 2022 Vintage
Sunday 1st May
MyattsField Paddock
Time: 12pm to 4pm
Music by Costal Drift playing 1pm-4pm
BYO picnic or let Chef Herman D'Sousa doing the cooking for you.
Strickly NO BYO alcohol.
Tickets: $10/ person (Persons under 16yo are free)
These tickets are only being offered to Left Field Club members but we encourage you to invite your friends for an afternoon of fun!
* Proof of vaccination for all attendees over  16yo will be maybe required. 
* No refund will be given for cancellations within 7 days of the event
* 50% of ticket cost will be refunded for cancellations within 14 days of event
* Conditions may change depending upon regulations at the time of event.
Sorry, this event has expired