Red Wine Blending Workshop – SOLD OUT –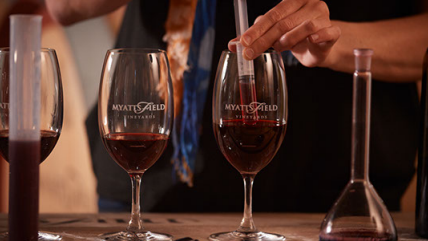 Event Location:
Myattsfield Vineyard
The Art of Blending wine grape varieties aims to create a more complete wine by utilizing the unique strengths of each variety to cover the weaknesses of its blended companions. Blending can be an instinctive and personal exercise. During our workshop, you will have the opportunity to sample different red varietals, learn about their strengths and weaknesses before being given the freedom to construct a blend of your own. Once you have created your ultimate blend, the MyattsField Winemakers will prepare a bottle of your personalized wine to take home and enjoy. Varieties available for blending: Shiraz, Durif, Tempranillo, Zinfandel, Montepulciano, Cabernet Sauvignon, Petit Verdot
 5 wine varieties will be selected depending on vintage
No refund will be given for cancellations made within 7 days of the event
50% of ticket cost will be refunded (less $10 booking fee) for cancellations made within 14 days of the event
Canellation of tickets with more than 14 days notice will be given a full refund less $10 booking fee.
Sorry, this event has expired