2020 Vintage Brunch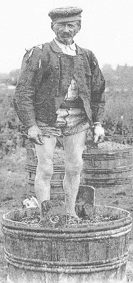 Event Date:
March 7, 2020
Event Location:
Myattsfield Vineyard
Join the team at MyattsField Vineyards for brunch in the winery as vintage carries on around you. Lend a hand to crush and press grapes or pump-over reds, sample juice as it ferments and get a taste of what it is like to be a winemaker for the morning.
Ticket includes:
Glass of sparkling on arrival
3 course brunch
Winemakers Vintage 2020 shirt
Menu
Starter
Mt Barker Chicken and Dill Crepes, Four Cheese Sauce, Pickles , Young Herbs .
Main
Cumin Spiced Pork Mince Cassoulet, Cherry tomato and Coriander Salsa , Poached Poulet Egg, Charred Vienna .
Dessert
Weiss Chocolate Fudge Mousse, Honeycomb , Berries Compote and wild Berry Icecream, Sunflower Sesame Praline
* No refund will be given with cancellations within 5 days of the event
* 50% of ticket cost will be refunded with cancellations within 10 days of event
Sorry, this event has expired